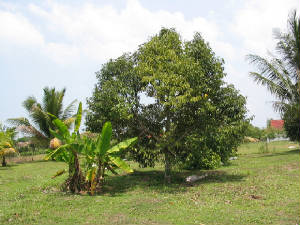 Durian tree
Aspa Cottage Gebeng Kuantan
Hold durian feasts in your property.
Family and friends enjoying fresh
durians from your own trees.
What can be better than that?
Various tropical fruit trees are growing well and it is just a matter of time for them to give you an endless supply of fresh delicious fruits to keep you and your family happy during the fruit season.
As it is , rambutans are in season and quite delicious.
Durians,mangoes,mangosteens,coconuts are growing well.